Closed Bottom Transformer Base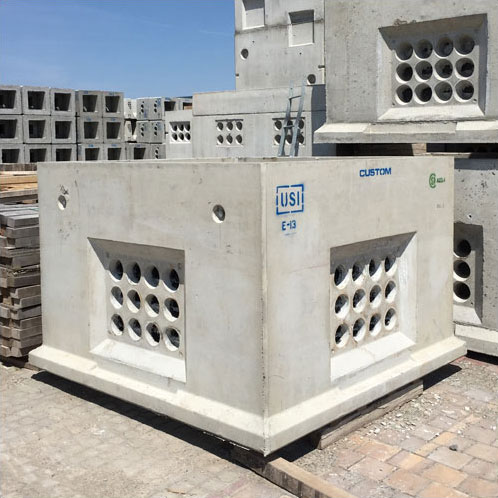 1.07m (H) x 1580mm x 1900mm
Shop Drawings
Click on image to enlarge.
Construction Details
REFERENCE HYDRO ONE DU-09-403

USE WITH

 

E14 (403)

 

TRANSFORMER PAD
Product Details
(4) 5" [127mm] POLYLOK PIPESEAL WINDOWS (12 POLYLOKS PER WINDOW)
THREE PHASE PAD – MOUNTED SWITCHGEAR (4-WAY) TRANSFORMER BASE
OPEN BOTTOM VERSION AVAILABLE DWG# E14-ONT
TOP SLAB DISTRIBUTED LOAD
Notes
DISTRIBUTED AND POINT LOADS ON TOP SLAB SHALL NOT BE APPLIED SIMULTANEOUSLY
SOIL BEARING CAPACITY TO BE MIN. 130kPA (SLS); VERIFY ON SITE
THESE DRAWINGS ARE ONLY FOR STRUCTURAL. OTHER MATTERS INCLUDING GEOTECHNICAL AND DRAINAGE TO BE TAKEN CARE BY THE ENGINEERS OF THEIR RESPECTIVE DISCIPLINES
TRANSFORMER ANCHORAGE FROM E14B-ONT BASE THROUGH E14 (403) PAD FOR LATERAL LOADS (SEISMIC/WIND) BY OTHERS
CSA Details
CSA 23.4-05
35 MPa (5000psi) AT 28 DAYS
STRIPPING STRENGTH: MIN. 20 MPa (2900psi)
5-8% AIR ENTRAINED
EXPOSURE CLASS: C-1
REINFORCING: STEEL TO CSA CAN A23.1
Looking for more information on our Utility Products. Please click the link below to get started.