[lwp_divi_breadcrumbs _builder_version="4.17.0″ _module_preset="default" global_colors_info="{}"][/lwp_divi_breadcrumbs]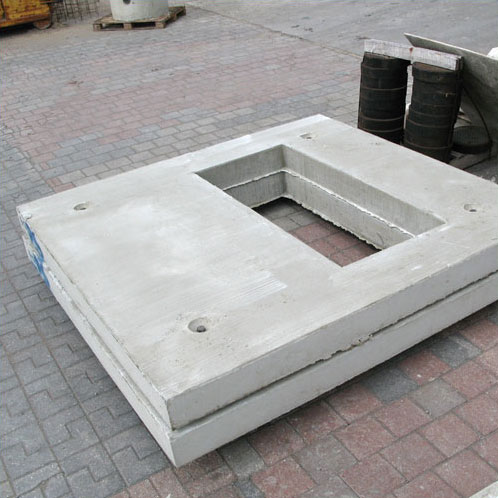 .20m (H) x 2108mm x 2235mm
Shop Drawings
Click on image to enlarge.
Construction Details
REFERENCE HYDRO OTTAWA UCS 0026

TO BE USED WITH BASE DWG#

 

E13 & E37 SWITCHGEAR MANHOLE
Product Details
(1) 19.5" [500mm] X 63" [1600mm] CABLE OPENING
TOP SLAB DISTRIBUTED LOAD
Notes
DISTRIBUTED AND POINT LOADS ON TOP SLAB SHALL NOT BE APPLIED SIMULTANEOUSLY
SEISMIC ANCHORAGE FROM EQUIPMENT TO PAD AND PAD TO BASE TO BE PROVIDED BY OTHERS
THESE DRAWINGS ARE FOR STRUCTURAL ONLY; OTHER ASPECTS INCLUDING UPLIFT TO BE TAKEN CARE OF BY OTHERS
CSA Details
CSA 23.4-05
35 MPa (5000psi) AT 28 DAYS
STRIPPING STRENGTH: MIN. 20 MPa (2900psi)
5-8% AIR ENTRAINED
EXPOSURE CLASS: C-1
REINFORCING: STEEL TO CSA CAN A23.1
Looking for more information on our Utility Products. Please click the link below to get started.