[lwp_divi_breadcrumbs _builder_version="4.17.0″ _module_preset="default" global_colors_info="{}"][/lwp_divi_breadcrumbs]
Closed Bottom Single Phase Transformer Base and Pad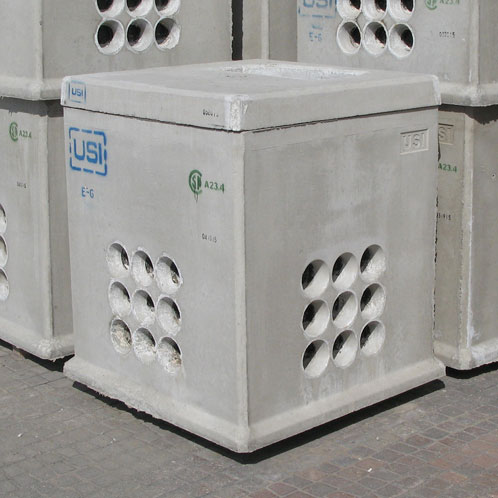 Kingston Hydro K03-03-124
1.52m (H) x 1300mm x 1300mm (OD)
Shop Drawings
Click on image to enlarge.
Construction Details
AS PER KINGSTON HYDRO K03-03-124

E6B BASE AND E7 PAD ASSEMBLED
Product Details
(4) 5" [127mm] POLYLOK PIPESEAL WINDOWS (9 POLYLOKS PER WINDOW)
SINGLE PHASE BASE 25kVA TO 167kVA
OPEN BOTTOM HYDRO OTTAWA VERSION AVAILABLE DWG# E6
(4) 0.6" [15mm] INSERTS IN E7 PAD
PAD OPENING: 30.5" [776mm] x 16" [413mm]
TOP SLAB DISTRIBUTED LOAD
CSA Details
CSA 23.4-05
35 MPa (5000psi) AT 28 DAYS
STRIPPING STRENGTH: MIN. 20 MPa (2900psi)
5-8% AIR ENTRAINED
EXPOSURE CLASS: C-1
REINFORCING: STEEL TO CSA CAN A23.1
Looking for more information on our Utility Products. Please click the link below to get started.