[lwp_divi_breadcrumbs _builder_version="4.17.0″ _module_preset="default" global_colors_info="{}"][/lwp_divi_breadcrumbs]
8' x 12' Switchgear Manhole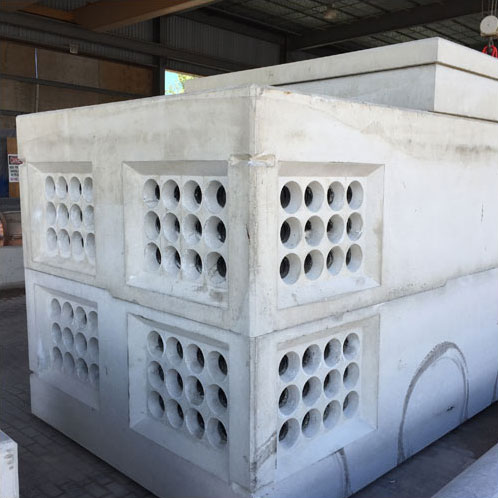 2.4m (H) x 2234mm x 3604mm (ID)
Shop Drawings
Click on image to enlarge.
Construction Details
DESIGNED TO CL-625-ONT TRUCK LIVE LOADING AS PER CSA S6-06

AS PER HYDRO OTTAWA UCS 0039
Product Details
59" [1500mm] x 76" [1930mm] CABLE OPENING IN TOP OF MANHOLE
DIMENSIONS
INSIDE: 78" [1980mm] (H) x 88" [2234mm] x 142" [3604mm]
OUTSIDE: 94" [2390mm] (H) x 102" [2590mm] x 156" [3960mm]
ESTIMATED WEIGHTS
MANHOLE TOP: 19140 LBS / 8700 KG
MANHOLE BASE: 22000 LBS / 10000 KG
S812 SPACER: 2640 LBS / 1200 KG
E812TP PAD: 5500 LBS / 2500 KG
Notes
(8) 5" [127mm] POLYLOK PIPESEAL WINDOWS (12 POLYLOKS PER WINDOW)
(2) 5" [127mm] POLYLOK PIPESEAL WINDOWS (6 POLYLOKS PER WINDOW)
(1) 16" [400mm] x 16" [400mm] SUMP BOX
(6) GALVANIZED PULLING IRONS
(4) 1-1/4" [32mm] LEL-DH INSERTS SPACED AT 12" [300mm] CENTRE ON CENTRE
(80) 1/2" [13mm] CONCRETE INSERTS
(1) 76" [1932mm] x 88" [2234mm] (ID) TONGUE AND GROOVE JOINT
Installation Notes
SPACER DETAILS: SEE DRAWING S812
PAD DETAILS: SEE DRAWING E812TP
TRANSFORMER TO BE INSTALLED AS PER MAUFACTURERS SPECIFICATIONS
MAXIMUM WEIGHT OF TRANSFORMER TO BE: 3000 LBS / 1365 KG
SWITCHGEAR MODEL 422, 29KV S&C ELECTRIC
HEIGHT OF THE TRANSFORMER TO BE LESS THAN HALF OF THE WIDTH
MINIMUM SOIL BEARING CAPACITY TO BE 100kpa (TO BE CONFIRMED ON SITE / BACKFILLING TO BE APPROVED BY A GEOTECHNICAL ENGINEER)
SEISMIC CLASS OF SOIL TO BE 'D' OR BETTER
CSA Details
CSA 23.4-05
35 MPa (5000psi) AT 28 DAYS
STRIPPING STRENGTH: MIN. 20 MPa (2900psi)
5-8% AIR ENTRAINED
EXPOSURE CLASS: C-1
REINFORCING: STEEL TO CSA CAN A23.1
Looking for more information on our Utility Products. Please click the link below to get started.